Visit to Santhosh Special School [Back]
Viruksha team visited to Santhosh Special School on 25th Feb 2010, this school is for mentally challenged children who are in need of special attention, care and love. These wonderful children are found to be full of joy, innocence and wonder.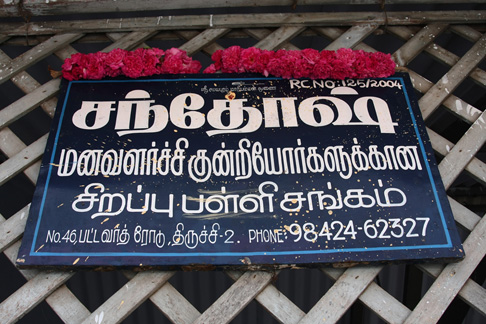 To train these children in the practical activities of daily living and physical works, there are specially trained professionals who do excellent job. To help these children in extra curricular activities, Viruksha trust sponsored sports materials to them
Senthil Kumar ( Board Member ) and Selvaraj ( Treasurer ) handed over these materials to Santhosh Special School on behalf of Viruksha Trust.
Smt. S.Saraswathi ( Founder & Correspondent ) thanked Viruksha team for these contributions and Mr. S.Subhash Chandra Bose shared about their upcoming projects.
Viruksha trust will continue to encourage and support the activities of Santhosh Special School.
Volunteers: S. Dhanalakshmi and S. Radhakrishnan