Visit to Lubra [Back]
Viruksha's second visit to Lubra, A Blind Home located opposite to Trichy Airport, Sempattu, Trichy is a very nostalgic one as one of the Board Trustee N. Senthilkumar has long standing relationship with this home. The Home has been in operation for the past 20 years and has been successfully managed by Mr.Thomas.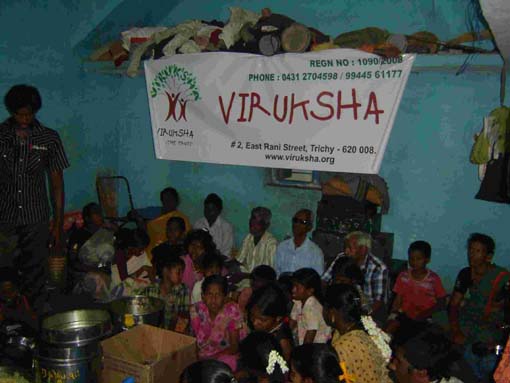 The day's Program started with Prayers to the almighty followed by a common prayer for the well being of all. The Home has an in-house orchestra and performed live which was a treat to the ears. Needless to say, God has gifted these people with special talents.
Later Viruksha Team introduced themselves and shared their Mission to all the members of the Home and also ensured the Home of their constant support.
It was interesting to note that the inmates of the House are entrepreneurs in their own way. The Blind Home inmates make "Use and Throw" paper plates and cups and sell them. Viruksha trust ensured that they would help in marketing these products in the Trichy Market.
Viruksha team donated Stainless Steel plates, Glasses and Mats to members who were in need. The Team also donates Soaps and Detergents to the Home on a regular basis.
Later during the dinner, Viruksha had arranged High-class food for all inmates, which they relished and it was a real treat to their taste buds!!
Special Thanks to Volunteers S.Malarkodi, S.Dhanalakshmi and M.R. Ravichandran in making this visit a successful one.